By Erin Brown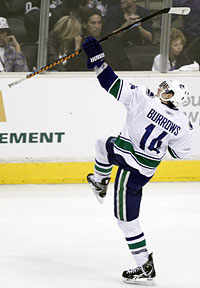 Alex Burrows scored his first goal in 11 games Sunday night, and to celebrate, he mimicked the act of shooting an arrow into the air.
Although the gesture was for his departed teammate and friend, Luc Bourdon, the motion could have easily sent another message: the Vancouver Canucks are back on target.
After an average start to a series against a youthful Los Angeles Kings team, the Canucks found their game, especially in the third period of the last three contests. Vancouver outscored Los Angeles 11-3 in the final 20 minutes of Games 4 through 6.
"We're resilient. We don't give up," Roberto Luongo said. "A couple times we had to come back in the third period in this series and we did it a bunch of times in the regular season. There's no quit in us."
Going forward, Vancouver's opponents will have to face a squad that appears to have worked out most of its kinks.
Luongo, while not among the league leaders in goals-against average or save percentage, has limited opponents to two goals in each of his last two games. Daniel Sedin snapped a 10-game slide of not scoring in a game where the Canucks had the ability to clinch a series. And then there's Burrows, Vancouver's leading goal-scorer during the regular season, who is back on the scoresheet.
"Even though it is an empty-netter, this time of year it doesn't really matter," Burrows said. "It's about the team and winning every game. We're really happy to get it done."
The only weakness Vancouver needs to tackle before the Conference Semifinals is their penalty killing, which is dead last this postseason. The Canucks have successfully killed off just 61.5 percent of its infractions.
"PK has been a problem for us," Sedin said. "We picked it up the last two games, but this series would have been over a lot sooner if our PK had been better. I think that's one thing we can key in on."