By Erin Brown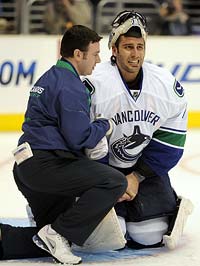 Vancouver Canucks goaltender Roberto Luongo may have injured his glove hand.
The apparent injury occurred during the second period of Game 3. Los Angeles Kings winger Ryan Smyth leaped in the air to avoid a shot. When he landed, the blade of his right skate came down flush on top of Luongo's glove.
A trainer came out to check the Canucks goale, who was cringing. Luongo did not appear to be cut and stayed in the game.
Luongo may be favoring the hand, though and the Kings wasted little time trying to find out. On one of the first rushes after the incident, Smyth aimed a slap shot at Luongo's glove. Rather than grabbing the puck, the goaltender used it more like a blocker to knock the shot aside.
Update (11:31 p.m.):
Luongo allowed two goals in 62 seconds during the second period. Both Kings goals came on Luongo's glove side. He has been pulled in favor of
Andrew Raycroft
.